---

WEBSITE IS DOWN FOR MAINTENANCE.
WE WILL BE BACK AND RUNNING VERY SOON
Sorry for any inconvenience
---

(october 2017)

electric knife record shop doesn't exist since last December (2016) but at least we (finally) unpacked almost everything and now you can order again from us

a few things are missing from the Vinyl and CD sections and unfortunately the whole of TAPES one. Sorry for that, we will try to update the cassette section too.
---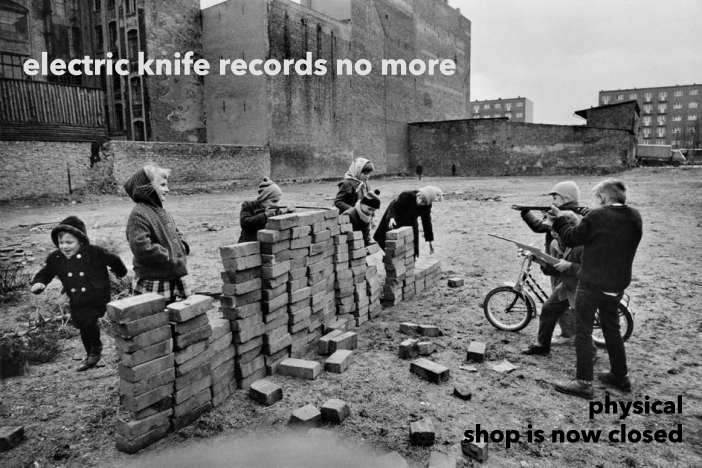 ---
(december 2016)

Shop is now closed. Thanks so much for everything...
---

Due to family relocating to South-West, Electric Knife will close down in the next few weeks. Loads of things now on huge discount.

Online shop will be on up until the 9th of December. After that, webshop will take a rest for a while, so if anyone would like to profit in any way from our closing down sales, should do it before the 10th of December when it will be the last day of the (physical) shop as well.

---

If you would like to visit the shop (for a last time), we will be open 2 Saturdays in November, the 5th & 26th and the last opening day will be Saturday December the 10th.
In all three days will be instore events to celebrate the closure of the shop and have a bit of fun.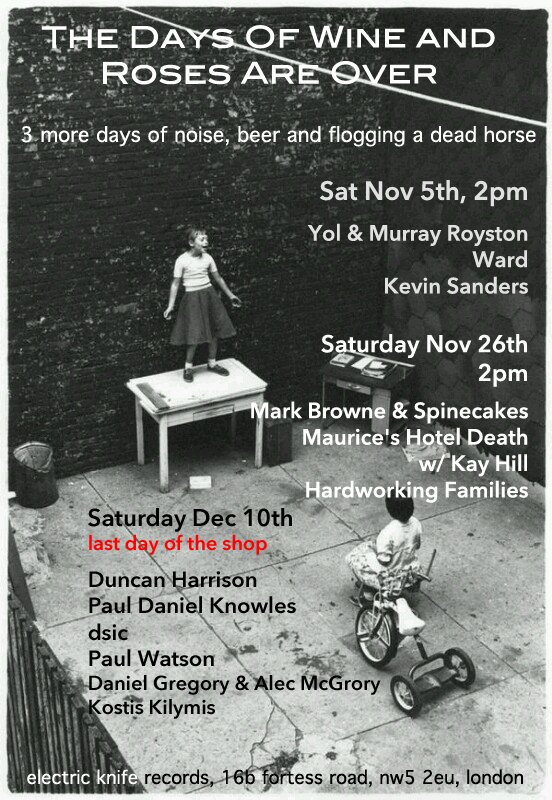 ---



Saturday 5th of November



Live instore 2pm
Yol + Murray Royston Ward
Kevin Sanders




Saturday 26th of November



Live instore 2pm
Mark Browne (Saxophone and Percussion)/Spinecakes (Electronics)
Maurice's Hotel Death w/ Kay Hill
Hardworking Families




Saturday 10th of December


last day of the shop

Duncan Harrison
Paul Daniel Knowles
dsic
Paul Watson
Daniel Gregory & Alec McGrory
Kostis Kilymis
...plus maybe a couple more tba
---

due to some technical issues with the 'create an account' page, you are advised to proceed straight with the Paypal option that appears on the checkout/shopping cart. You will have both options to pay either with your paypal account or with your debit card.
---

also all discount coupon that were available will be deactivated during the closing sales period. Apologies for that.

---