Ian Rawes: London's Lost World Of Sounds
December 9, 2015 @ 8:00 pm
|
£5
Event Navigation
IN VARIETY PRESENTS: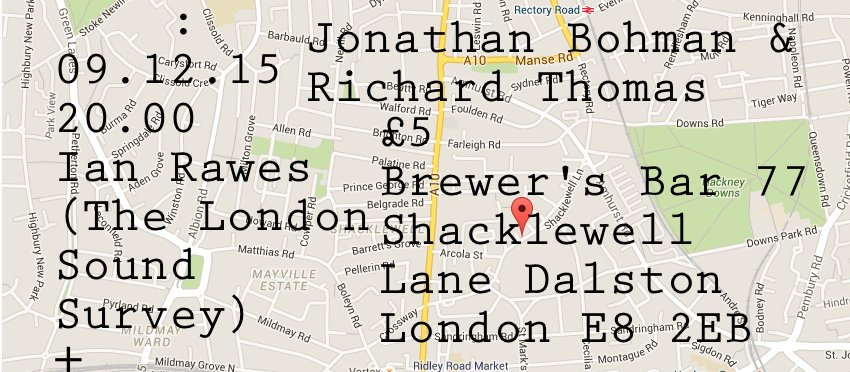 Every second Wednesday of the month we will be hosting a sort of literary salon with occasional sounds – or if that's too high falutin' for you, maybe it will be a dirty low down grunge jam for the discerning filthbag. Somewhere in between in all likelihood.
Without further ado, the first of the series features the estimable Ian Rawes, who will present an illustrated talk 'London's Lost World of Sounds'.
Over to Ian:
Featuring rarely-heard recordings of the city's life from the 1950s back to the late 1880s. These sounds, captured by broadcasters and amateurs alike, bring to life a rowdy, vocal London filled with vigour and eccentricity. Lavender sellers and fortune tellers, the vanished songs of schoolchildren, fire stations and sewer workers, the propaganda and reality of the Blitz – all these and much more are lined up for a night not to be missed by anyone with an interest in the history of recording, of radio, or of London itself.
Ian Rawes, formerly of the British Library's Sound Archive, began the London Sound Survey with a collection of 200 recordings six years ago. It has since grown to over 1,700 recordings and has been featured in the national press, on BBC World Service, and on local radio and TV.

Ian's website is