Our Colin (Webster) with theirs (Nijmegen's prodigy sons) Dead Neanderthals, came together, took a good look at each others, raised their instruments, pressed play and for the next 40 minutes they never looked back. The result? Hmm…give it a go:
check it on our website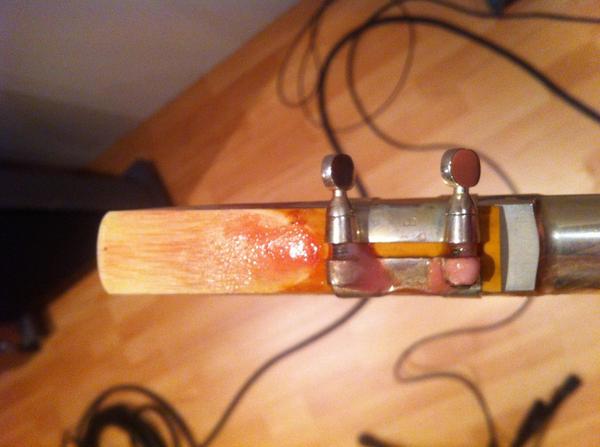 Colin's mouth when they were recording it
If you want more wise words before you decide, here you are:
"It's a fine line between unrelenting intensity and monotony; reviewing the Dead Neanderthals' contribution to a split release back in August, I felt that it landed on the less desirable side of this divide. Afterwards, DN's drummer René contacted me, suggesting that I give their upcoming release with saxophonist Colin Webster a try. I consented to review it, aware of the fact that the distance separating "meh" and magnificent is often a short one in music this dense, and curious to find out where they're headed next.
And Prime really does step across the proverbial fine line, towards excitement. In general approach, however, it's not radically different from the split track: You'll still feel as though a giant stone wheel straight out of The Flintstones just ran over you once you've finished listening to the forty minutes of Prime, and arguably, the inclusion of London-based sax player Colin Webster has made their music even more intense. René Aquarius attacks his kit like a boxer subjecting his punching-bag to an endless succession of swift punches, never allowing time to swing back into resting position. It's an approach that's more akin to, say, Lightning Bolt's Brian Chippendale than to classic free jazz drumming, revealing the band's ties to noise and punk music. The boxing metaphor applies to the sax-playing, as well, and not just because Otto Kokke and Webster are more interested in quasi-percussive impact than in soloing or melody. As in a seemingly chaotic professional boxing match, which, when viewed in slow motion, reveals itself to be something like an unintentional choreography – and the result of years of training –, there's method to the mayhem here. On repeated listening, it becomes clear that the supposedly impenetrable racket of Prime is in fact the outcome of attentive interplay, with Kokke and Webster always waiting for the right opportunity to land a punch, advancing or retreating whenever necessary, and using whatever space is available to good effect.
Returning to musical reference points, one could compare Prime's forty minutes of uninterrupted excitement to Ascension – albeit without the ascension, if you catch my drift. Another way of highlighting the record's intensity would be to locate it in the Northern European lineage of prosaic, in-your-face improv – think Brötzmann or Gustafsson. Either way, it's a lot of fun."
Julian Eidenberger (http://www.freejazzblog.org/)
"Prime's ferocity and aggression hide a spiritual core"
Phil Freeman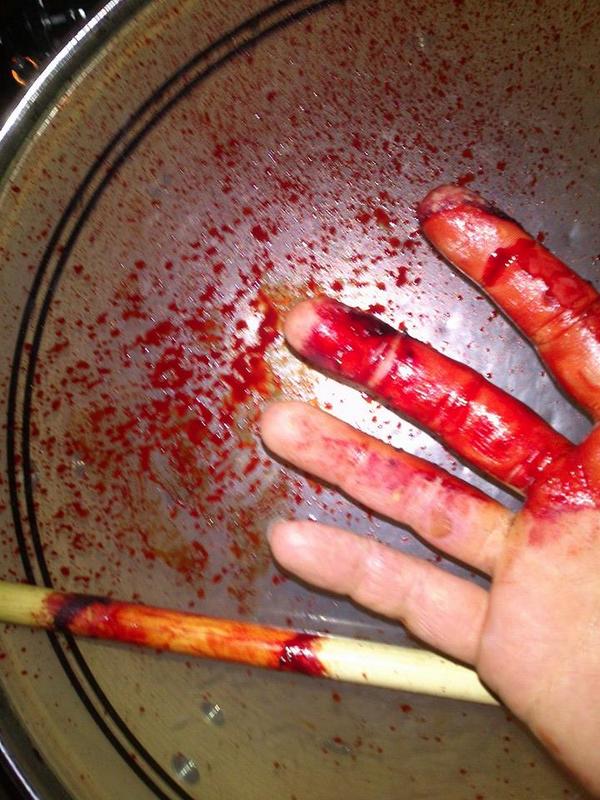 René's hand when they were performing it live in Rennes